El Rancho Market and California Fresh Market
Recipes
https://www.californiafreshmarket.com/Recipes/Detail/5682/Idaho_Potato_Samosas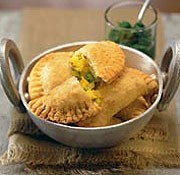 Idaho Potato Samosas
Customer Rating:
1 Ratings 0 Comments
Ingredients
Filling:

1/3
cup

vegetable oil

2
cups

Idaho potato, cooked and crumbled

2
teaspoons

mustard seeds

3
Tablespoons

ginger, chopped

1-1/2
cups

onions, chopped

1
cup

cauliflower (small florets), coarsely chopped

1
cup

cabbage, shredded

2

green chiles, seeded and minced

1/2
cup

cashews, chopped

1
cup

green peas

1
teaspoon

turmeric

1
Tablespoon

lemon juice

1-1/2
teaspoons

salt

2
Tablespoons

cilantro, coarsely chopped

Dough:

4-1/2
cups

flour*

1
Tablespoon

salt

1
Tablespoon

cumin seeds, toasted

1
cup

butter or ghee, soft but not liquified

3/4
cup

ice water (use up to 1/4 cup more water if necessary)

1

large egg, beaten (for egg wash)

oil for deep frying

Serve mint or coconut chutney
Directions:
For Filling:
1. Heat oil in large saute pan (medium heat), add mustard seeds and ginger.

2. Once seeds begin to pop, add onions and cook for 4 minutes.

3. Add cauliflower, cabbage, chiles, cashews, peas, turmeric, lemon juice and salt to taste. Once cooked, about 6 to 7 minutes, cool and fold in cooked potatoes.

4. When cooled, add cilantro and reserve.

For Dough:
1. Mix flour and salt. Add toasted cumin seeds and butter or ghee. Mix in ice water and form like pastry dough, adding additional water as needed. Cool in refrigerator for 1/2 hour.

2. Roll out dough, about same thickness as pie dough (1/8-inch thick). Cut into circles, 3-inch to 3 1/4-inch in diameter (using a ring or a glass). Egg wash edges of dough and fill with a generous teaspoon of vegetable mixture. Fold over in a half-moon shape and crimp edges with a fork.

3. Deep-fry in 350 F. oil or bake in 400 F. oven for 23 to 25 minutes. Serve with mint or coconut chutney.

*For a denser consistency, substitute potato flour.


Source: Idaho Potato Commission
Please note that some ingredients and brands may not be available in every store.
El Rancho Market and California Fresh Market
Recipes
https://www.californiafreshmarket.com/Recipes/Detail/5682/